At Simply Cool, we offer the ultimate protection for glass, mirrors, and metal with Graffiti Shield, to help you protect your business surfaces from acts of vandalism.
What Is Graffiti Shield?
Graffiti Shield is a durable transparent coating that covers glass, mirrors, and metal surfaces. It helps to combat vandalism and graffiti-related damage with its graffiti-resistant features. Applying a glass shield or anti-graffiti film is a cost-effective way to keep surfaces safe, clean, and protected against further damages such as:
Scratching

Spray paint

Etching

General age wear

Acid etching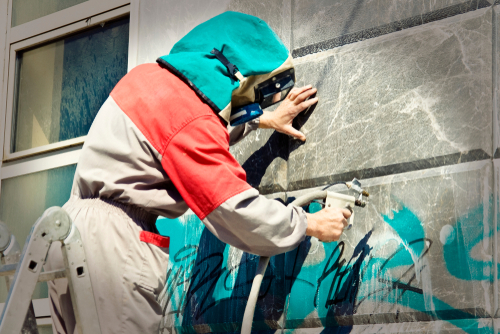 How Does Graffiti Shield Work?
Graffiti Shield adheres to the surface and forms an invisible barrier. This barrier helps to keep graffiti from sticking and makes it easier to clean off any markings that occur. The coating is also durable enough to withstand multiple cleanings without losing its protective properties.
Types of Graffiti Shields:
We offer three types of Graffiti Shields, each designed for a specific material: glass, mirrors, and metal.
Glass Shield:

our glass shield is specifically engineered for protecting glass surfaces. It offers an unmatched layer of protection against graffiti and vandalism, keeping your windows, display cases, and other glass surfaces pristine.

Mirror Shield:

mirror shield offers superior protection for all your mirrored surfaces. It prevents scratches, etching, and graffiti, ensuring your mirrors always reflect the best image of your business.

Metal Shield:

designed for metal surfaces, the metal shield provides a robust defense against vandalism. It keeps your metal surfaces, whether they're on doors, elevators, or railings, free from graffiti and other forms of damage.
Each of these options delivers effective protection while preserving the beauty and integrity of your surfaces.
Who Can Benefit?
We've all seen unsightly damage to mirrors and metal surfaces in our lives. Whether in a mall bathroom or commercial elevator, scratches and tagging create an unkempt look that often presents a business or establishment in the wrong light. Completely replacing mirrors, glass, or metal once they've been damaged isn't an effective solution.
However, a professionally applied film shield can be a cost-effective way to cover existing damage while protecting the surface from further damage. As the film applied is undetectable to the public and strongly adhered to, the risk of unwanted removal is lowered drastically.
Hotels

Restaurants

Shopping Centers

Hospitals & Medical Facilities

Banks

Universities and Schools

Buses and Cars
Graffiti Shield can be beneficial for any business that wants to protect its surfaces from vandalism or graffiti damage. We offer a range of solutions that are custom tailored to the needs of each customer, ensuring they get the protection they need at an affordable price.
Maintenance & Cleaning
Once the film has been applied to a surface, it's important to keep it clean and maintained. The film is designed to be resistant to the elements, but regular cleaning will help ensure its effectiveness in the long run.
A gentle soap-and-water mixture should do the trick for most surfaces, while tougher stains may require stronger chemicals. It's also important to note that abrasive cleansers and scrubbing pads should never be used, as this could damage the film beyond repair.
Perfect For All Materials
Metals
Have the metals in your office, franchise, or commercial space seen better days? Buffing out wear and tear may be an option, but ridding metal material of major tagging damage isn't always an option.
Creating a shield barrier around metals will not only protect the material from future damage but mask the appearance of previous damage. Metals look as good as new and stay that way.
Glass
Let glass and windows do their work to let light in without risking carving, scratching, or general damage to its appearance. Get a "good as new" look to windows without the cost of a complete replacement.
Simply Cool can apply a clear film to glass that is indistinguishable to the eye. If a scratch or graffiti were ever to occur, a Simply Cool technician can replace the film in no time.
Mirrors
The mirrors in your business are a reflection of yourself. Having trouble keeping them clear of graffiti or scratches? You're not alone. Mirrors are easily scratched, from general age, wear and tear to purposeful tagging
A film overlay can be placed on the mirrors of commercial and public spaces to protect surfaces from further damage. Replacing mirrors is an expensive endeavor, but thankfully, protection film also gives mirrors a new look.
What Customers Say About Us
Just got my 2nd car tinted and it was a great experience. They guys are nice but the shop dog is really what made the 5 star review she is great!
Great experience! The best customer service. Very informative, good pricing, and done in a very timely manner.
Robert Burrola
2021-10-13
Simply cool is the best place in the state to get your windows Tinted.
Tracilyn Hayes
2021-08-06
These guys are awesome, they do a great job.
Excellent, fast service at a great price.
GUSTAVO ADOLFO LINO AGURTO
2021-07-17
Extraordinario servicio!!! Los amo!!!!
corine morales
2021-06-06
Great work. My windows are perfect, and the darknest
Damien Gambill
2021-05-25
These guys are great and do great work!
Get Your Graffiti Shield Today!
At Simply Cool, we understand how important it is to keep surfaces safe and protected from graffiti and vandalism.
Our Graffiti Shield range offers unbeatable protection for glass, mirrors, and metal surfaces, so you can be sure your business is always looking its best. Get in touch with us today to find out more about how our solutions can help protect your business!