Creative Solutions for Every Window.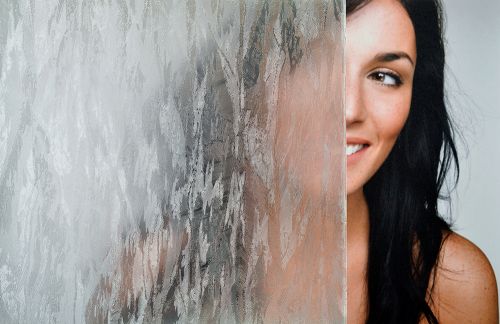 Decorative window film is an excellent way to bring a bit of creativity to any window in your home. Decorate your windows using Simply Cool's expansive library of decorative window films.
Whether you're looking to enjoy the look of frost, the texture of an itched glass, or strictly looking to enhance your privacy, we have a film for you. Using a variety of colors, textures, tints, shades, and reflections, we can help you transform the windows in your home in an inexpensive manner.
With minimal effort, you can take creative control of every window to the open world. Your windows don't have to just be a way to look out, but a way to express yourself as well.
View our Catalog of Decorative Films
Window Films for Privacy
Most people are familiar with privacy films on bathroom windows, glass showers, or office doors, but dated window frosting can look tired and unpleasant to look at. If you want to keep the same level of privacy on your windows but update the look and feel of window film, Simply Cool can help.
We'll search for a privacy film that works with your home, creating a cohesive look throughout spaces that need added privacy. With hundreds of frost and texture variants, we'll bound to find one that you'll both love the look of and give you peace of mind for years to come.
Privacy in many forms. It's true that when most think of privacy films, they imagine frosts and bubbles that distort the view from the outside in and vice versa. However, what if you want to eliminate the ability to see within a room from the outside without obscuring the view from the inside?

For example, with a one-way mirror film, you can easily take a covert view while protecting the privacy of your home from onlookers.
View our Catalog of Decorative Films
Make a Statement
Although many homeowners choose window tints and film for UV protection and additional privacy, decorative film is the perfect way to get creative with the glass around your home. From stylish marbled looks to classic frosts, stained glass, and etched window decals, anything look is possible
Looking for a dual purpose? Who says you can't have your cake and eat it too? With films that mimic etched and stained glass, you can keep a level of privacy at glass doorways and windows without compromising a dazzling look.

Unique and realistic, when these decorative films are applied by the expert hand, they bring the flare of centuries past.

Get creative with interior glass.

Of course, decorative glass can be simply decorative. Whether you want to apply frosted film to glass kitchen cabinetry or enhance architectural appeal to indoor glass with an applique, the sky's the limit.
Reduce Glare & UV Rays
In addition to the decorative benefits of window film, tinting can reduce glare and solar heat in bright rooms.
With a variety of shades, you can reduce glare from the sun while filtering out ultraviolet (UV) rays that damage furniture and fade colors over time. The right shade will provide you with long-term protection for whatever room or area your desire.
Window Films for Frameless Doors and Shower Doors
Frameless showers and glass doors are quickly becoming the go-to style for luxury bathrooms, but they can be problematic when it comes to privacy. With decorative window films, you can enjoy the airy feel of frameless doors while maintaining a comfortable level of privacy that won't compromise your view.
No matter what aesthetic you're looking for, decorative films can help you get the look you want without sacrificing privacy.
Find the Right Window Film for Your Needs & Style
No matter the type of window, Simply Cool's decorative window films have you covered. Our films are perfect for a variety of window types, from frameless doors and awning windows to hung windows, and textured glass.
Whether you're looking to reduce glare, add a bit of privacy, or just add a unique look to any window in your home, we have a film to perfectly match your needs.
For awning windows, static cling window film can be a great solution. This type of film is easy to install, and it won't leave behind any residue or damage your windows. If you're looking for something more elaborate, our static cling window films can be used to create attractive stained glass window decals in a variety of sizes and colors.
And if you're looking for an even more unique look, our colored tints add the perfect finishing touch to any window.
See What the Customers Say About Simply Cool
Just got my 2nd car tinted and it was a great experience. They guys are nice but the shop dog is really what made the 5 star review she is great!
Great experience! The best customer service. Very informative, good pricing, and done in a very timely manner.
Robert Burrola
2021-10-13
Simply cool is the best place in the state to get your windows Tinted.
Tracilyn Hayes
2021-08-06
These guys are awesome, they do a great job.
Excellent, fast service at a great price.
GUSTAVO ADOLFO LINO AGURTO
2021-07-17
Extraordinario servicio!!! Los amo!!!!
corine morales
2021-06-06
Great work. My windows are perfect, and the darknest
Damien Gambill
2021-05-25
These guys are great and do great work!
Give Us a Call
With over two decades of experience in window tint and film application, Simply Cool is a name you can trust with all decorative film applications.
Call us today to find out how we can bring a new look to your home while improving your comfort and security. Simply Cool is located in Salt Lake City, Utah, but we happily provide our services throughout Salt Lake and Utah County.
Simply Cool has a library of high-quality products and top-notch customer service. Have any questions about our services and products? Give us a call today to talk with one of our team members, or set up an appointment for our services.